Accurate. Credible. Reliable.
LOLA is a real-time legislative information service that provides comprehensive policy data and customizable tools for governmental and policy professionals who track Arizona legislation.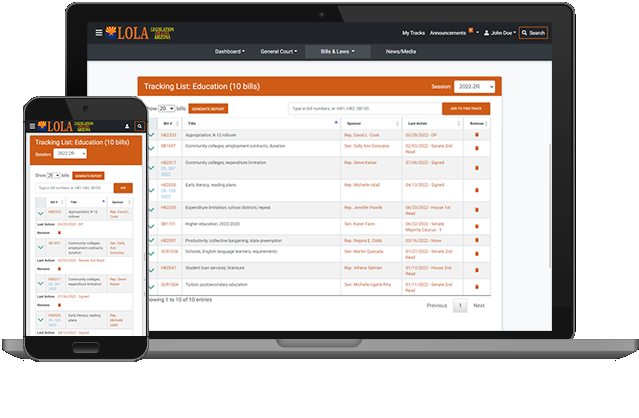 Who We Serve
Lobbyists
Track and follow bills by client. Manage hundreds, even thousands, of bills. Generate client reports, save them for future use – they automatically update.
State & Local Governments
Receive notifications of potential changes to governing statutes, or impacts to your municipality. Follow budgets and track line items - between gubernatorial, House & Senate versions. See line item changes over time.
Law Firms
Easily monitor legislation for clients. Access the quickest source of proposed and actual changes to laws. Conduct historical research on statute change. Your best bet for determining legislative intent and history. Expand your government affairs reach.
Associations
Receive advance notice of hearings. Keep your members, legislative and executive committees informed. Effortlessy keep members informed.
Advocacy Groups & Unions
Create legislative scorecards based on how you'd like legislators to have voted. Discover which legislators are most aligned with your goals. Use our new grassroots advocacy too!
Corporations
Stay ahead of the curve by identifying potential legislative threats and opportunities early. Manage the process from wherever you are - whether it's Phoenix or Paris.
Arizona News Service also offers these additional products and services
Contact Us
Ready to get started? For pricing and more information about LOLA or other services we offer, send us a message.
Or, call us during normal business hours at (602) 889-7145.
Submitting your message, please wait...